Coverage is not paid opposition research for Matthew Sandler for Mayor. All information is publicly available in local publications. I humbly ask for your support at the ballot box on March 7th. Mayor Jane Castor has no competition. She is not even trying to secure your vote.
I am. You matter to me. And I do not take your support for granted. Please write in Matthew Sandler and thank you again for your backing. Pronto seguirá una versión en español de este artículo.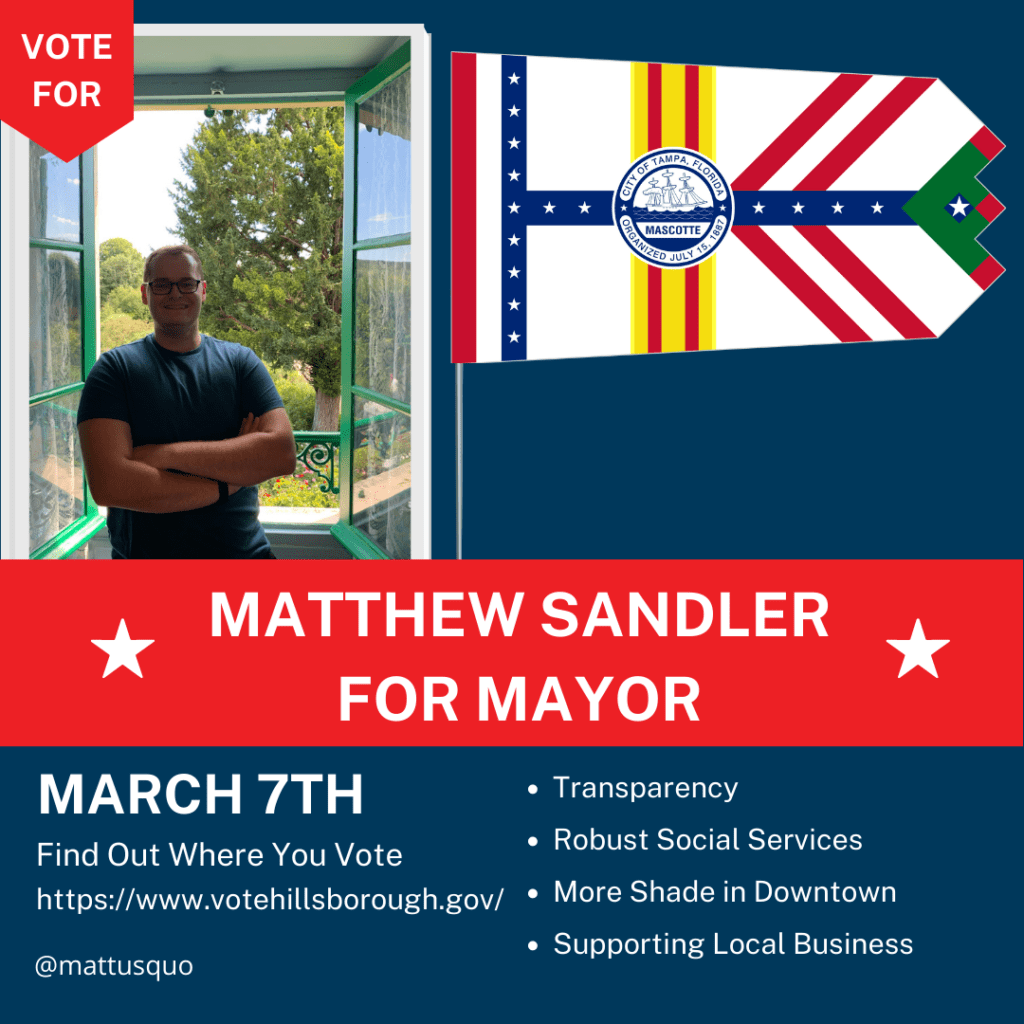 I recently came to you, the good people of Tampa, with the fresh news of my write-in campaign for Mayor. I spoke of scandalous and unethical behavior that has since only intensified in the wake of disrespectful comments made by Janet Cruz at the Hillsborough County NAACP Forum. Cruz insinuated her opponent (and incumbent) Lynn Hurtak bore some ill will toward the LGBTQ+ community, a statement both Hurtak and the audience poopooed. Hurtak is a noted progressive who nevertheless faces stiff competition at the polls from Cruz in the District 3 city council race. Cruz happens to be Mayor Jane Castor's mother-in-law.
Hurtak, despite sharing Jane's purported progressive views, endures a challenge not too dissimilar to those played out by Eric Adams and Kathy Hochul in New York. Both Adams and Hochul have rebuked liberal political pursuits they've disagreed with, from pontificating about nebulous "woke" dialogue to committing to a protracted battle over a judicial nominee perceived as too conservative.
Jane Castor's methods of silencing her opponents have been more indelicate, frankly. Heavy-handed investigation tactics coupled with a less-transparent-than-ever mayor's office leave a passing resemblance to government by authority. Granted, a couple of Mayor Castor's opponents didn't exactly do themselves any favors. Let's review.
1. Deploy the mother-in-law, and make elections more difficult
I mentioned above that Janet Cruz went after Councilwoman Lynn Hurtak on baseless grounds, seeking a fight over social justice but not finding one. Hurtak has been one of Castor's sharper opponents, avoiding some of the scandals befalling other city council members while matching up against the mayor ideologically. Creative Loafing's electric Justin Garcia recaps the exchange but I highly recommend watching the video. The comments start around 38 minutes in.
The unusualness of this scandal generated some minor virality, as two ostensibly liberal candidates (city council races are non-partisan) tussled over who was more bigoted. The answer is pretty transparently neither of them. But this kind of political tactic helps to establish a future basis for some similar claims that could prove dire. This same strategy proved fatal to Bernie Sanders in his 2016 campaign against Hillary Clinton, which turned race, one of his greatest strengths, into his biggest weakness.
Hurtak frankly faces the weaker opponent in Cruz, in my own estimation. One of Jane Castor's other rivals on the council is Councilman Bill Carlson, the Democratic representative of District 4. Carlson faces Blake Casper, son of the Casper family of local McDonald's fame. Casper's last-minute entry raised some eyebrows, especially since he's drawn support from the mayor and Tampa Police Department. Casper is a Republican, so Castor's endorsement of him is a fairly serious cross-party repudiation. Where she could find no way to control city councilmembers through legal methods, she's moved on to political ones. But let's reflect on those legal methods, for a moment.
2. Unseat your detractors with ruthless investigations
John Dingfelder
John Dingfelder resigned from the city council in March 2022. A scandal that quickly faded from public memory. John was sued out of office by Ethan Loeb, a business lawyer who delivered evidence of biased judgment on Dingfelder's part.
Why an almost-sealed settlement, though? And what was City Hall's role in the investigation that followed? We don't exactly know. But we can kind of guess, thanks to some diligent reporting from the Tampa Bay Times and a little more Johnny-on-the-Spotly, the Tampa Bay Business Journal. John got caught operating as a commercial real estate agent a little too diligently while serving as a council member. He employed his access to other city officials to support the aims of his clients. Those aims sometimes included bulldozing cemeteries and removing wetlands, but in some fairness to John, those have rarely been deal-breakers for commercialization before.
Dingfelder's settlement included some interesting gag rules that prevent us from learning more about how the investigation took place. The Dingfelder camp naturally shared their skepticism. Let me be clear: John Dingfelder committed conspicuous acts of ethical impropriety in office. However, I think it's fair to suggest the zealous pursuit of his wrongdoing has more to do with his opposition to Mayor Castor than meets the eye.
I'd love to know more, and I think we all get the sense that most city council members know which buttons to push to get the most out of their fellow city officials. Just maybe not as conspicuously as John.
Orlando Gudes
Gudes remains accused of sexual and workplace harassment for which the city separately reached a $200,000 settlement last May. Represented by the same lawyer who ultimately ousted Dingfelder, his accuser's civil lawsuit was dismissed back in July. These allegations continue to follow him, though.
Allegations against Gudes were known to the city since as early as 2019, and as opposition in the city council grew, so too did the city attorney's peek back into those allegations. This great writeup by Creative Loafing shows that in conducting their investigation of Gudes, city attorneys committed wrongdoing of their own, like badgering Gudes' victim.
The victim didn't want to continue the misconduct case – but City Hall did. And when local media caught wind of it, the mayor's office tried to shift the blame to the reporters. This same victim was made publicly identifiable by the mayor's communication team, and city reps accused the Tampa Bay Times and other publications of "revictimizing the victim" – an allegation they're actually guilty of. At worst, the Times and others merely went over ground freshly plowed by the city. But that was enough to invite a rebuke.
Recap
Castor's heavy-handed handling of city council investigations and cutting down her opponents has made her a juggernaut of local politics. But I want to divide up the controversies here, in fairness to the mayor herself. Dingfelder and Gudes opened themselves up to criticism given their own immoral actions. Castor's mandate certainly includes tamping down on the potential for obvious corruption and sexual harassment or other lawsuits to expose the city to liability. The recent allegations of bigotry from Cruz to Councilwoman Hurtak aren't the mayor's words. These are merely appetizers.
In Part 2 though, we will cover some of Mayor Castor's more egregious and disqualifying acts while in office and serving in the Tampa Police Department. The pipeline between the two deserves a little plumbing, especially with two DOJ investigations and wanton spending of city funds on the horizon.
Call to Action
There are no other names on the ballot in this year's election for Tampa Mayor.
The only person running against Jane Castor is me. Matthew Sandler. All of her opponents and even some of her friends on the city council face stiff election prospects this March 7th. Let's make her competition a little stiffer too. She deserves to compete for your vote. I think you're incredible, and you have a voice. Together, we can help improve this city today, and tomorrow.
Write in Matthew Sandler at the polls. Thank you for reading.